---
Prayer of St. Francisbefore the Crucifix
---
Most High,
glorious God,
enlighten the darkness of my heart
and give me
true faith,
certain hope,
and perfect charity,
sense and knowledge,
Lord,
that I may carry out
Your holy and true command.
---
Our Mission Office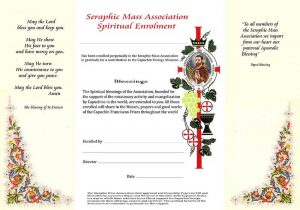 The work of the Capuchin Mission Office allows you also to collaborate with us in our apostolic obligation.
The Seraphic Mass Association was formed for this specific task.
For Seraphic Mass enrolments, cards, calendars, books, CD's, DVD's or Religious items, please contact our Mission Office, Monday - Friday between 9am - 12pm.
Visit our Mission Office Website