Constitutions N. 152
Let the brothers who are priests, in the spirit of Christ the good Shepherd, proclaim the mercy of God. Let them be faithful dispensers of the forgiveness of sin that God offers in the sacrament of reconciliation and willingly make themselves available to hear the confessions of the faithful, especially since this ministry is highly appropriate to us as lesser brothers and brings us close to those who most experience the misery of sin.
They should be outstanding in their zeal for God's holiness and mercy, in their respect for the dignity of the human person, their charity, patience and prudence.
Confessors should endeavour to make continual progress in pastoral knowledge and in the proper exercise of their ministry.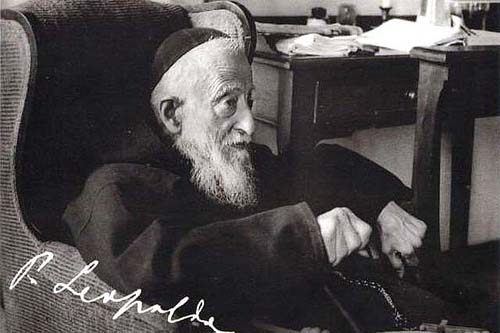 There are Capuchin saints known for their service to the sacrament of confession, such as Saint Leopoldo Mandic (1866-1942).
The saints make holy the places where they have lived, as Francis of Assisi did his hermitages, Anthony Padua, John Vianney Ars, Pio da Pietrelcina San Giovanni Rotondo. At Padua, however, there is not only the basilica of the "Saint", but also a little cell/confessional in the Capuchin Friary in piazza Santa Croce. It too has become a place of attraction. Here Saint Leopoldo Mandic heard the humble stories of sin for more than thirty years. This little place was spared from the aerial bombardment on 14 May 1944, just as the little Capuchin had predicted: "The Church and the friary will be hit by bombs, but not the little cell. Here God has shown so much mercy to souls that it must remain as a monument to His goodness." The life of the holy "confessor" was contained within those few square metres. And yet it is not easy to tell the story of his life because it is so simple, hidden from the wisdom of the world.
Everyone, small or great, learned or ordinary people, religious, priests, clerics and lay-persons, all flocked to his confessional. Shut within his little two by three metre room, with its small window poorly defended by curtains that opened onto a narrow and stifling yard, Leopoldo exercised the ministry of reconciliation and mercy and until his death. His East became each and every soul that came to seek his spiritual help. On 13 January 1941 he wrote, "Any soul that needs my ministry will be an East for me." He heard confessions for ten to twelve hours a day, irrespective of the cold, heat, weariness or illness. "Stay calm," he used to say to his penitents, "put everything on my shoulders. I will look after it." He took on himself sacrifices, prayers, night vigils, fasts and disciplines. He met each penitent with joy. He even thanked penitents would have hugged them. Once a penitent entered Leopoldo's cell and sat on his armchair. Leopoldo heard his confession while kneeling down himself.
He was accused of being too lenient, and he endured many conflicts. Pointing to the Crucified he used to answer with his marvellous experience of the mercy of God. "If the Crucified would correct me about leniency, I would answer: 'you have given me this bad example yourself. As yet I have not arrived at the folly of dying for souls." However the story of his confessional would be an epic royal poem, a joyful dance of gifts, graces and miracles, that would take too long to tell. The victim was now ready for the ultimate sacrifice.
By the end of autumn of 1940 his health had declined and became ever worse. At the beginning of April 1942 he was taken to hospital. He ignored the fact that he had a tumour in the oesophagus. He continued to hear confessions in the friary. He was not afraid of death or the pain that consumed him. On 29 July 1942 he confessed without a break and then spent the night in prayer. The following morning, on 30 July, he fainted as he prepared as he prepared for Mass. Taken to bed he received the Sacrament of the Sick. While reciting the final words of the Salve Regina, he raised his arms, as if he were going towards something.
Transfigured, he breathed his last. All of Padua turned out around his remains and his funeral was a triumph. Thirty four years later Paul VI declared him "blessed" on 2 May 1976. On 16 October 1983 John Paul II proclaimed him "saint."