Constitutions N. 14
The Son of God, accepting the form of a servant, did not come to be served but to serve and to give His life for the salvation of all. His self-abasement is perpetuated in the sacrament of the Eucharist, where he daily humbles himself and comes to us under humble appearances.
Inwardly moved and amazed by God's humility and compassion, Saint Francis chose to become lowly among the little ones. Following his example, and keenly desiring to be conformed to Christ, we too should strive to be truly minor, never presuming to become greater. Inspired by this spirit, let us generously devote ourselves to the service of all, especially of those who suffer want and tribulation or even of those who persecute us.
Therefore we should gladly live our fraternal life among the poor, sharing their hard-ships and lowly condition with great love.
While relieving their material and spiritual needs, our lives, our work and our words should be devoted to promoting their human and Christian development.
By doing this we manifest the spirit of our brotherhood in minority and at the same time become a leaven of justice, unity and peace.
Here are some of our Capuchin Outreach ministries to the Poor in different parts of the Province:
Friars' Van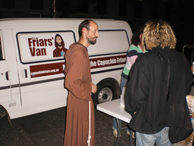 On Friday and Saturday evenings the Friars' Van heads out from the friary at Leichhardt to near St Mary's Cathedral to give hot drinks and sweets to those experiencing different forms of poverty, hardship and homelessness. There are usually two friars and around five young volunteers. The van is parked about 50 metres from another van organised by another group distributing food. After collecting their food the people head down to the Friars' Van for their hot drink of coffee, tea or chocolate and for some sweets.
The most important task of the friars and volunteers is the welcome given to the people. They spend time simply listening and speaking with them. On the streets these people experience suspicion and fear from passersby, and so are avoided by others. They experience marginalisation and loneliness. The friars and volunteers welcome them and 'waste' time with them.
Young people interested in volunteering with the Friars' Van should send an email to Br John at friarsvan@gmail.com
South Melbourne
Open House
The Capuchin friars live upstairs where they have their chapel, bedrooms, living room, kitchenette, and downstairs they share the back section of the house with the poor and marginalised. From Monday through to Thursday the Open House section welcomes people to share food, hot drinks and more importantly, table fellowship – place to sit and converse with others. The friars are assisted by volunteers. Below is the weekly schedule:
Monday -'Open House' (tea and coffee etc), 11am – 3pm
Monday – Dinner, 5pm
Tuesday – 'Open House' (tea and coffee etc), 11am – 3pm
Tuesday – Dinner, 5pm
Wednesday – Breakfast, 10am (preparation from 9am)
Thursday – 'Open House' (tea and coffee etc), 11am – 3pm
Also in South Melbourne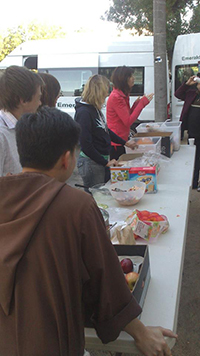 Setting our from the friary at South Melbourne on Monday and Saturday evenings, the friars and volunteers serve food to the poor and marginalised on the streets around the Port Melbourne area. Working together they create a place of welcome, conversation and human comfort for the people who participate.
Most of the food is generously donated by a variety of benefactors. The volunteers meet beforehand at the Open House, South Melbourne to prepare the food for distribution.
The friars of South Melbourne are also assisted by friars from the fraternity of St Anthony's, Hawthorn.
The friars and volunteers experience first hand the gospel truth that there is more joy in giving than in receiving (cf. Acts 20:35).
St Francis Table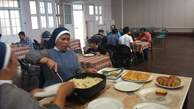 Social outreach to the aging often goes unnoticed. The elderly become less visible as age and health issues lend them to retreating more inside their homes. The loneliness and isolation this brings is a form of marginalisation that is being addressed in a small but significant way by the friars in Newton, Adelaide. This has taken the form of St Francis' Table. This consists of a monthly social gathering for the elderly, house bound and lonely. Its format is simple. The elderly gather from 10.30am for different forms of social interaction – talking, playing cards, tombola and so forth – until 12 noon, when a good three course lunch is served. In the long-standing tradition of the friars and the people working together, it is all voluntary. Volunteers assist in picking up the people from their homes.
Even the local municipal council has come on board by providing a small bus to assist with transport. The volunteers welcome and seat the guests. A team of cooks are in the kitchen preparing the lunch. Local people and businesses have already been involved in the weeks before dropping off food stuffs, drinks, coffee and wine. From the very beginning all the expenses have been met by donations. A team of volunteers, including the friars, serve at the tables.
This is a nascent but important ministry for the Capuchin friars and Franciscan Immaculatine sisters. The treatment of refugees continues to be a challenge to our nation. On 5 August 2013, Pope Francis wrote,

''Dear migrants and refugees! Never lose the hope that you too are facing a more secure future, that on your journey you will encounter an outstretched hand, and that you can experience fraternal solidarity and the warmth of
friendship!''
It is through simple gestures the Capuchin friars, Franciscan Immaculatine Sisters and volunteers seek to make a reality this hope of the Pope. St Francis House is a place of welcome for asylum seekers. It supports them by offering English lessons, various activities and a place to share a meal together.
It is currently held on Mondays from 10am – 2pm at 47 Dornoch Terrace, West End (in the hall behind St Francis of Assisi Church).