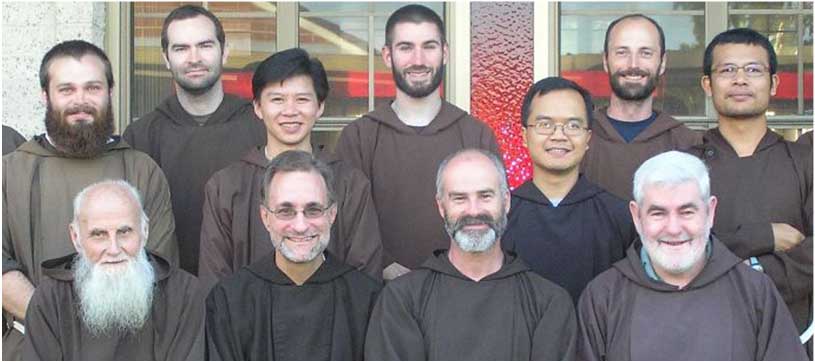 (Above): Some of the then post-novices pictured with some of their formators at a student formation conference
Since no one is born a Capuchin, the Capuchin formation program seeks to form the young men who enter the Order to be Capuchin friars and to live the Capuchin Franciscan charism. With open hearts, the young friars learn to live the Gospel as men of prayer and as lesser brothers. There are different stages in the formation process and these are outlined below.
In general, the total time in formation from when a candidate enters the Order until he professes perpetual vows is about 7 years. The total time between entry and ordination to the priesthood is about 8-9 years. You will note that this is a little longer than in a diocesan seminary (which is usually about 7 years). This is because our candidates first spend time learning to be a Capuchin Franciscan friar and only then begin their studies for priesthood – which they do as brothers in the Order i.e. by living fraternal life in the friary, daily prayer in community, doing ministry to the poor, etc.
All of our candidates are formed to become Capuchin friars. However, not all go on to become priests – some remain as brothers in the Order. Therefore, the stages of postulancy and novitiate are identical for both priest and brother candidates. The difference in the program begins to be featured in Post Novitiate Stage 2.
See each of the stages below: