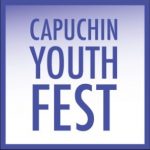 CAPFEST is back for 2018!!!
Join other young people from around Australia for the fourth Capuchin Franciscan Youth Fest!
From Friday 27th -Sunday 29th July 2018, there will be TALKS, WORKSHOPS, DAILY MASS, ADORATION, LIVE MUSIC…and MORE all at a scenic location on the Port Hacking River in the Royal National Park, Sydney.
This is a national Capuchin event – so get in touch with your local Capuchin Friars to see how people will be making the trek interstate.
More details to come! But in the meantime, SAVE THE DATE!