We give thanks to God as five Australian Capuchin novices were invested in the habit on Sunday, 22nd July 2018. It is a very special moment in their vocational journey. They don the habit of St Francis after having spent time meeting with the vocation director and discerning with the Capuchins here in Australia, and then completing a year of Postulancy with the friars in Brisbane. Invested in the habit, they are now referred to as "brother" and have begun their Novitiate – which is a year-long program of formation and discernment done at San Lorenzo Friary in Santa Ynez, California in collaboration with the Capuchin provinces of North America.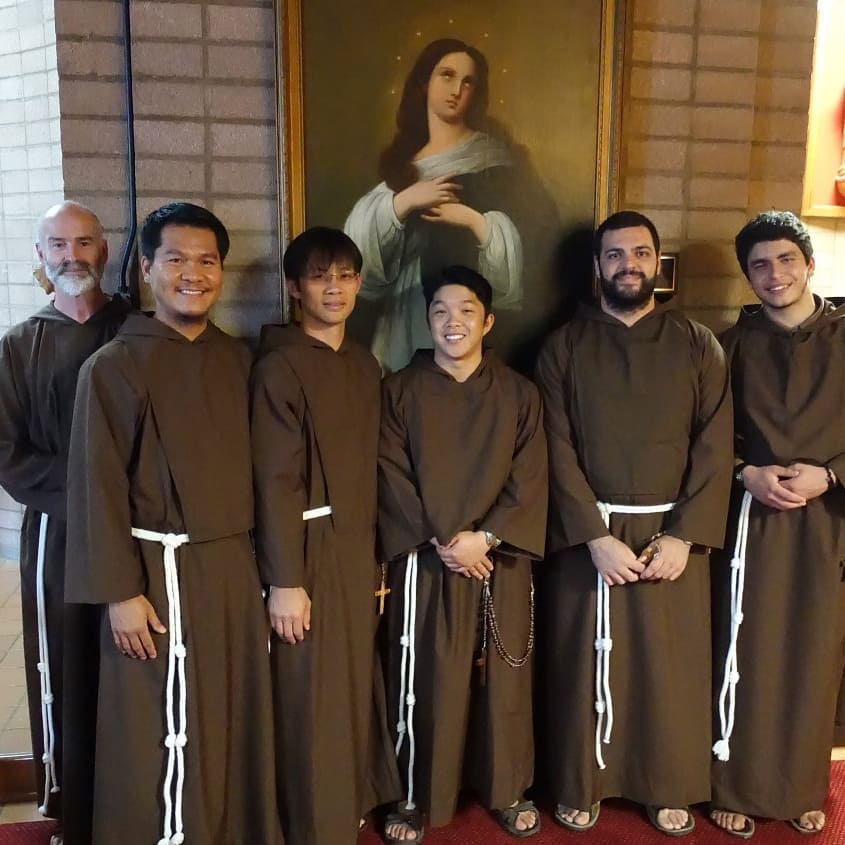 There are a total of 16 novices altogether, including our five (pictured above as follows, Left to Right): Father Robert Stewart, novice director; Brother Heherson Alarde; Brother Duy Tran; Brother Aldrae Cruz; Brother Brendan Bourizk; Brother Jarred Elbaghd.
God-willing, this time next year they will return to make their first profession of vows and continue their formation here in Australia. Please keep them and all our young men in formation in your prayers.
If you are interested in finding out more about our Capuchin way of life, please contact the Vocation Director.
Here are some photos from the Investiture Ceremony, where their habits were blessed and each novice was then clothed by a friar from their Capuchin province: